North of the Vatnajökull glacier at the crossroads of Route 1 (The Ring Road) and Route864 Dettifoss lies Grímsstaðir farmer´s guesthouse and campground. Big beautiful crystalclear skies and mountain vistas make for a relaxing and peaceful stay. To the south rises Herðubreið the queen of Icelandic mountains. Grímsstaðir is an ideal location for a stay of a few days to relax and enjoy it´s surroundings as well as make day trips to some of the northeast´s natural wonders such as:
Dettifoss 28 km – The most powerful waterfall in Europe
Mývatn 40 km – Mývatn is a beautiful lake, the fourth largest lake in the country
Ásbyrgi 56 km km – National Park
Herðubreiðarlindir 60 km – An oasis at the foot of Herðubreið mountain
Askja 100 km – A stratovolcano/caldera
Kverkfjöll 130 km – Glacier icefalls, glacier caves and hot springs in Vatnajökull
The charming old farmhouse with it´s kitchen facilites accomodates 10 people in sleepingbags. Three rooms with two beds each are to be found in the host´s home. A breakfast is served every morning with freshly baked bread as well as local delicacies from the housewife´s kitchen. Campground facilites are to be found in a beautiful sheltered area by the brook that runs through the farmland.
Tel. +354 464 4292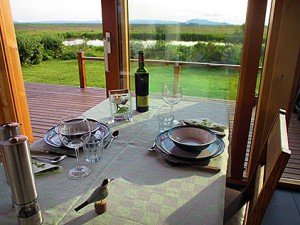 Email addresse: grimsstadir@simnet.is
Pricelist 2022:
Sleeping-bag Accommodation: Price 7.000 ISK per person
Camping:  Price 1000 ISK per person
Room for two w/made up beds & breakfast: Price 18.000 ISK